Arriva da Jane The Virgin il nuovo attore che arricchisce il cast di Bell.
Jane The Virgin è una celebre serie che ha già un legame con Beautiful perché la sua protagonista è Gina Rodriguez, ex Beverly di B&B (era la stagista ingiustamente accusata da Stephanie di aver rubato i bozzetti della FC e di averli passati alla concorrenza; Beverly e Rick si stavano avvicinando… ma il personaggio non ha avuto successo ed è scomparso rapidamente e senza spiegazioni.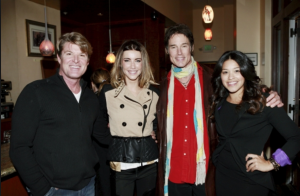 Ecco i dettagli – e qualche spoiler!
La new entry è Francisco San Martin, in Jane The Virgin è Fabian, ma in Bold and Beautiful sarà Mateo, il cui lavoro sarà quello di sorvegliare la casa di Eric. Sheila lo adocchierà subito e lo recluterà per sedurre Quinn e cercare di distruggere il suo legame con Eric. Sheila e Quinn, infatti, sono l'una contro l'altra per via di Eric: Sheila non ritiene Quinn all'altezza del marito, ma la signora Forrester non intende mollare Eric e darla vinta alla Carter.